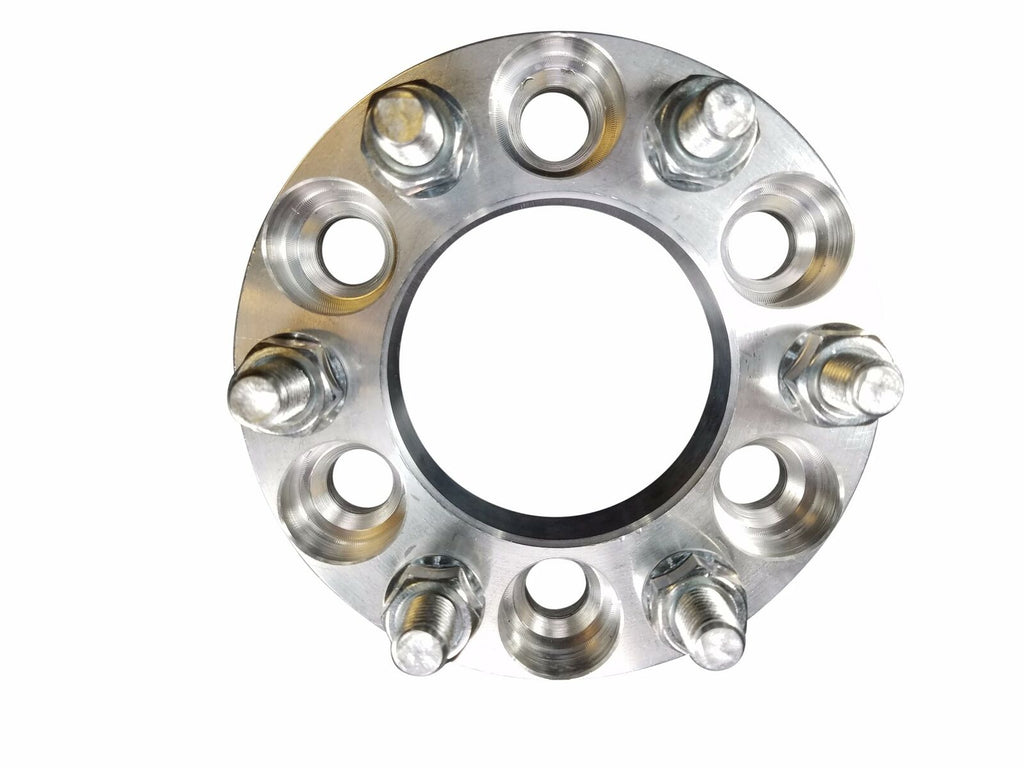 6x5.5 / 6x139.7 to 6x5.5 / 6x139.7 US Wheel Adapters 1.5" Thick 12x1.5 108mm x 4
---
6x5.5 / 6x139.7 to 6x5.5 / 6x139.7 US Wheel Adapters 1.5" Thick 12x1.5 108mm x 4
 NOTICE!! This is a built to order item listed as No Return. Disregard any mention of return later in this listing. If you buy the wrong item for whatever reason, you wreck your car, your wheels get stolen, someone told you the wrong measurement, bought 2 thinking it was 4, found a better price...Whatever it is still NO Return. We are professionals are are willing to help you get the right item BEFORE you purchase but you need to contact us First.  
The Fitment Guide is Incomplete if you are unsure about anything, please ask before you buy!
Part #  =  USA-6550-6550C7-108
Vehicle Bolt Pattern = 6x5.5 / 6x139.7
Wheel Bolt Pattern  =6x5.5 / 6x139.7
Adapter Center Bore  =  108mm
Adapter Lug Seat = Conical (do not use factory bolts with Radius seat) 
Adapter Studs  =  12x1.5
Open Ended Lug Nuts Included same size as Adapter Studs
Thickness  =  1.5"
Quantity = 4
Need Help? 
eBay no longer allows our phone number to be displayed.
If you have any questions, please message us and get the answers before your purchase.
The Following Important Information Applies to Your Purchase Whether You Read It or Not
It is your responsibility to ensure that the written description which includes the bolt pattern of the vehicle, bolt pattern of the wheel, center bore and stud / lug nut size are all correct for your application.
Shipping may be included but is not free, if you purchase the wrong item it will cost to get it corrected.
If you are not sure about anything please ask. 
We are available with professional advice. 
8-4 PST M-F 
USAdapters
Installation
Installation is of critical importance with wheel adapters.
Professional installation is strongly recommended.
Slip fit the adapter on the wheel and the vehicle before you bolt anything on to ensure that you have proper fitment.
Installed adapters are not returnable.
Mating surfaces must be clean and free of rust and obstructions allowing for the adapter to sit flat on the rotor, and the wheel flat on the face of the adapter.
Make Sure the lug nuts or studs from the vehicle do not touch the back of the wheel.
Torque by hand, do not use impact gun for installation.
Improper Installation Voids All Warranties.
Bolt Patterns
Bolt patterns must be correct, if you are not sure, please get help.
If you purchase the wrong bolt pattern it will cost you for postage and handling to get them exchanged.
The bolt pattern of the vehicle comes first in the listing and the wheel bolt pattern is listed after the word "to".
There is no such thing as a universal wheel, it is what people call wheels that have two bolt patterns, but there is a possibility of 10 or more.
3, 5 and 7 lug bolt patterns measure differently than 4, 6, or 8 lug
Vehicle Studs
If the studs on your vehicle are longer than the adapter is thick you may need to trim them down so they do not touch the back of the wheel.
Factory lug nuts are often too big to recess in an adapter so they may need to be replaced.
Studs / Lug Nuts
These wheel adapters require a conical seat lug nut or bolt.
One set of open ended conical seat bulge lug nuts are included with the adapters.
The lug nuts included will be in the same size as the studs in the adapter unless otherwise requested or advertised above.
Different wheels require different kinds of lug nuts, make sure you get the proper lug nuts for your wheels in the right size to fit the studs in the adapter.
Factory bolts from Mercedes, VW and Audi have a radius seat (also called ball seat) lug bolt. Radius seat lug bolts are Not compatible with these adapters that require a conical seat they Must be replaced with a conical seat fastener or failure can occur. 
Custom built adapters are available that accept radius seat bolts by special request at additional cost.
Center Bore
The center hole of the adapter must be large enough to fit over the hub of the vehicle. It can be larger, which is called lug centric, where the conical seat lug nuts center the adapter on the hub.
Hubcentric
Hubcentric refers to an adapter where the center hole of the adapter perfectly fits over the hub sticking out on the vehicle.
Wheel-centric
Wheel centric is available for extra cost in most applications.
Hub and wheel centric is the best and closest to factory fit that you can get which also adds extra strength.
Wheelcentric is optional in most cases but If you have wheels that require a radius seat lug nut, it is strongly recommended.  
Thickness
All adapters are also spacers because they require some thickness to be able to bolt onto the vehicle and then hold the wheel.
The minimum thickness we make is 19 mm a.k.a. 3/4 inch and we go up to 5 inches thick.
Installing Two-Piece Adapters
All the above still applies, but with a two piece adapter Make Sure the hub, studs or lug nuts from the vehicle do not contact the second piece of the adapter or it will cause failure.
Open ended 3/4" hex conical seat lug nuts, short enough to not touch the second piece of the adapter are required to fit the vehicle. (Not included)
The black bolts that hold the two pieces together should be torqued to 60 to 65 foot-pounds and I also recommend using blue removable Loctite on these bolts.
Do Not Use Impact Gun to tighten adapter bolts/lugs, torque by hand.
Pictures
The pictures are of stock adapters and may not look exactly like what you get due to differences in bolt patterns and center bore sizes.
You will receive the item as described in the written description of the listing.
Prices
Our prices are higher than many other sellers with similar products because they are just that, similar products.
The cheap wheel adapters you see are made in China.
We are a US manufacturer based in San Bernardino California where we use US sourced billet aluminum providing the best materials for construction of our wheel adapters.
The US sourced aluminum that we use for construction is superior to that from China and it costs more for labor in the US which is why our wheel adapters cost more.
Authenticity
Beware of unscrupulous sellers of wheel adapters (there are many) who would imply or even straight up lie by saying that their adapters are US-made, but they're Chinese imports, these are truly US-made wheel adapters made by US citizens from US sourced aluminum in our machine shop in San Bernardino California

Warranty
Improper Installation or alteration Voids All Warranties.
If you have a problem with your purchase please contact us so we can help you resolve the issue.
We do Not guarantee that the part you buy will fit your car, if you ask us specifically and give us correct information we can help you get the right part. 
We guarantee our parts are as described in the written part of the listing, please read carefully and ask any questions you have before purchase.
We offer a limited lifetime warranty on our US-made wheel adapters.
This warranty covers the aluminum construction of the adapter, if it should ever fail we will replace the defective part.
This warranty is limited to part replacement only, user agrees to assume all other responsibility and or liability arising from use of this product.
Wheel studs are a wear part, and are replaceable in the adapter, there are many ways to damage them that have nothing to do with construction so wheel studs are not covered under this warranty, if you need stud replacements we have them available for sale online.
NO Refunds - Exchange Only Buyer pays shipping both ways.
NO Returns after 30 days
If you purchase a set of adapters that you no longer need or were the wrong application, and you want a refund, you pay to ship the adapters back to us and there is a 20% restocking fee for refunds of items returned in new condition. 
Adapters that have been bolted to the vehicle are not returnable, only parts in brand-new condition are accepted for refund or exchange.
Adapters that are improperly packed for the return and therefore arrive damaged will not be accepted for refund or exchange, please be sure to package them well and put something between the adapters when shipping.
Exchanges
The process for exchange is the same as for refunds except for most items it is an additional $20 to cover shipping and handling to a US address for the return instead of 20% restocking.
Contact
Please Contact us with ANY questions Before purchase, we can no longer display our phone number in our listings but there is a "contact seller" link at the top right of this page in the box called Seller Information where you can contact us through the message system or find the phone number.
Thank You And Have a Blessed Day


---
Share this Product